Metal roofing systems are everywhere today. You see them in both residential and commercial roofs. However, not many people have an idea what metal roofing systems are all about, how it works, and why it is beneficial for both homeowners and commercial property owners. Home Grown Roofing is a roofing company that offers various roofing services including metal roofing systems installation. We aim to help you pick the right choice for you the best roof for your home or your business property. Our expert roofers and specialists are ready to assist you in the whole process, from beginning to end. 
What are metal roofing systems?
Metal roofs are only a part of the whole. It's a component that needs planning, maintenance, design, specification, and detailing. The designer must be highly-skilled and knowledgeable on every individual part in the metal roofings systems to effectively build a roofing system that's beneficial to the owner. Often, designers use a single approach for all kinds of properties. This means that many critical details are left unaddressed. It's often the reason why many metal roofings systems fail.
Home Grown Roofing has a team of experts and professionals in the metal roofing worlds. We don't just pick an approach and apply it to your own home or building. We make sure that whatever we install, will function right for many years to come. A roofing system, regardless of the type, is an expensive investment and we want you to get the best of every penny you put out for your roof.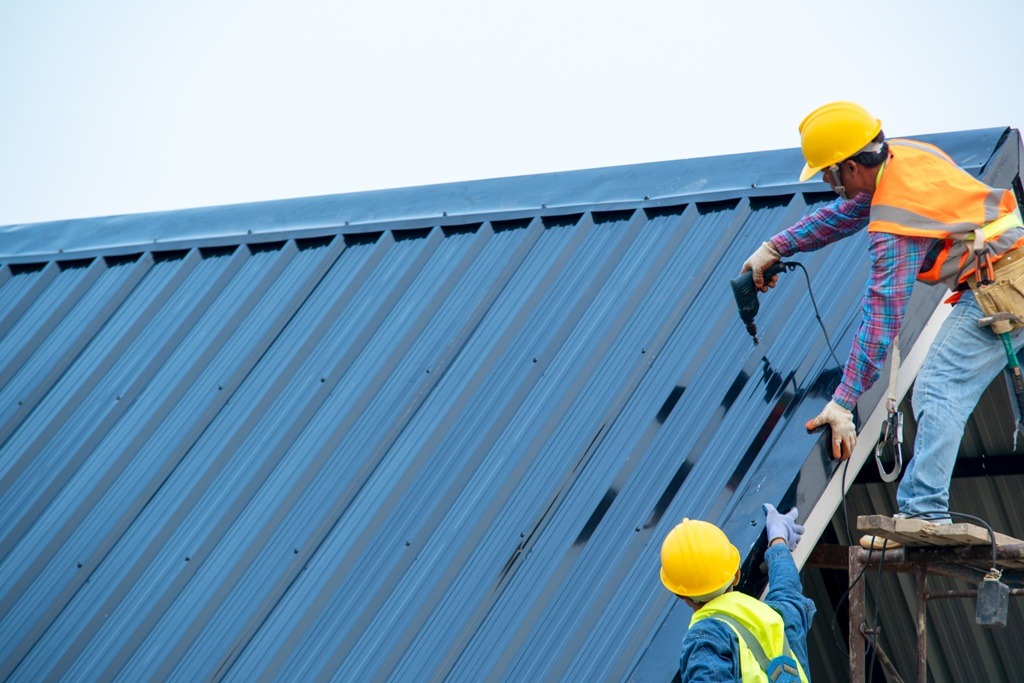 Benefits of Metal Roofing Systems
There are many reasons why you should consider using a metal roof for your home instead of the usual material such as asphalt shingles, concrete, and tiles. However, not at all times is metal roofing the best choice. It's always best for you to check with professional roofers and ask their expert opinion if the type of roof you want is a perfect fit to your home. If you, however, are between options, here are some of the considerations you may want to know. 
Metal Roofs last longer
Metal roofing systems are designed to last over several decades compared to other roofing materials. Metal roofs are becoming more and more popular because typically, homeowners would go to roofing types that would last longer. It saves them more money in the long run from roof replacement in a few years time. Metal roofing systems usually last up to 60 years without replacement as opposed to the 15-25 years for other roofing materials. 
Metal Roofs are more durable
Wood, concrete, plastic, glass, and metal – among these materials, metal is the strongest and most durable. With a proper roof installation, your metal roof can protect your family and all your valuables from strong winds, debris, rian, hail, snow, pests, rodents, mildew, and other usual reasons that cause roofing failure. Aside from that, metal roofs are also Class A fire-rated and non combustible. It's resistant to fire to the highest grade possible. 
Types of Metal Roofings Systems
Most often, people just go directly to steel roofs when they hear about metal roofings. However, there are more types to metal roofing materials than just steel. There are five types of metal roofing materials which are:
Tin
Tin is mostly used in homes across the US and Canada. Today, Tin roofs are replaced with galvanized or aluminum material.
Steel
Steel is the most common metal roofing material and it's also the least expensive among all the types. Steel is flexible so you can use it for either residential roofing or commercial roofing.
Zinc
Zinc is easier and quicker to make. It also has a chalking feature in it. The main downside is the price. The beautiful aesthetic makes it expensive.
Aluminum
Aluminum is mostly recommended for homes and properties in coastal climates. It's highly resistant to soil corrosion compared to the other metal roofing materials. However, because it offers better corrosion protection, it's also far more expensive than the other types.
Copper
Copper is an older metal roofing material, considerably the oldest compared with the rest. Copper roofing has been around for centuries around the world. It's 100% recyclable and thus, eco-friendly and it's also a soft metal making it the quietest type of metal roofing. The downside to it is that because it's soft, it's prone to hail damage.
If you are looking for professional help for your metal roofing systems, then there is no other company to call. Home Grown Roofing is your company of choice when it comes to metal roofing systems. We have a qualified team to do the job right the first time around. We aren't only about the skills, we are also about the honest desire to help.